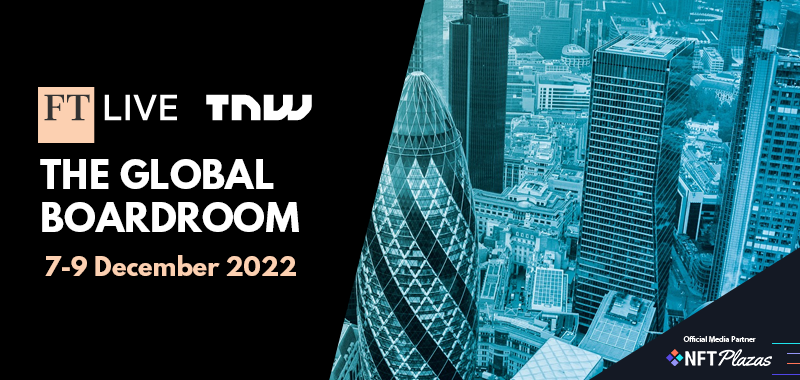 This December, the Financial Times will host the 6th Edition of 'The Global Boardroom' online digital conference. A comprehensive event outlining the strategies required to manage sustainable growth amid geopolitical and economic turmoil. Wherein, some of the biggest names in business, finance and politics will open a dialogue regarding immediate challenges facing the modern world.
The next live event will occur from December 7-9, with NFT Plazas proudly representing the Web3 space as an official media partner. All in all, featuring a wide variety of topics relating to the immediate future, including war, pandemic and global warming. In addition to a further segment dedicated to the Metaverse and the role it has to play in the world economy.
Register for your free Inspiration Pass >> Click Here
Register for a Professional Pass >> Click Here and use code NFTPLAZAS for 10% off
World Thought Leaders Gather to Discuss the Future
The purely online conference will include a vast contingent of thought leaders from a broad spectrum of backgrounds, including Secretary General of NATO, Jens Stoltenberg, President of Argentina, Alberto Fernández, and Rolls Royce CEO Warren East. As well as prominent members of tech heavyweights, Google, Meta and Amazon.
Those attending will gain access to a wealth of crucial business information from leading policy makers. In additional to engaging with quality content and curated discussion panels to gauge the reaction to crises in the modern world. As well as the opportunity to participate in an interactive question and answer session with a number of key industry experts.
On December 9 at 6 pm, Angie Gifford, Vice President of the EMEA region for Meta, and Su Le, Chief Digital and Strategy Officer at Tonomus, will head up a discussion regarding the Metaverse. Taking into consideration the part it will play in the future of the economic landscape and how it can integrate with existing business. Focusing on such aspects as its potential scalability, its impact on socio-economic growth, and its ability to provide a sustainable revenue stream.
Take a look at the full schedule >> Click Here
How to Attend and Participate
The latest event will take place from December 7-9 and is accessible online via almost all devices and browsers. However, those with a strong internet connection and Google's Chrome browser will achieve the best results. To get involved, prospective attendees can register via The Global Boardroom website and select one of three tiers of access. As such, the free inspiration pass will provide access to all discussions and Q&A sessions. In contrast, the $209 professional pass will add 90 days of on-demand access to talks, summaries, networking opportunities, and more. With a custom 'delegate plan' also open to those with bespoke requirements.
The last event held in June hosted over 800k unique viewers watching over 100 individual speakers with 30+ hours' worth of content and all early signs are that this event will be bigger and better. You don't want to miss out…
Source NFT Plazas