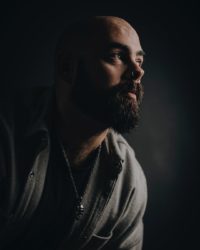 Where to find this NFT Artist and their NFTs:
This artist is available on: Nifty Gateway
Billelis NFT artist on twitter
First NFT Published: 2021
NFT Artist Style: 3d,dark,Gothic,moody,motion,music,skulls

Billelis likes to use his acute artistic eye and his digital photography skills to create hyperrealistic portraiture and Lego portrait sculptures. He has a keen eye for intricate detail, as well bold contrasting colours, and his work has often been described as hyperreal. His artistic eye is paired with a new love affair with digital photography and the delicate art of Lego construction. He spends a lot of his time expanding his creative pathways to inspire new and exciting projects.
Bill has worked with many of the top names in the industry including Apple, Playstation, Microsoft and others.
He resently released a juxtaposition on greek art combining beautiful masts with golden skulls.
Source NFT Culture