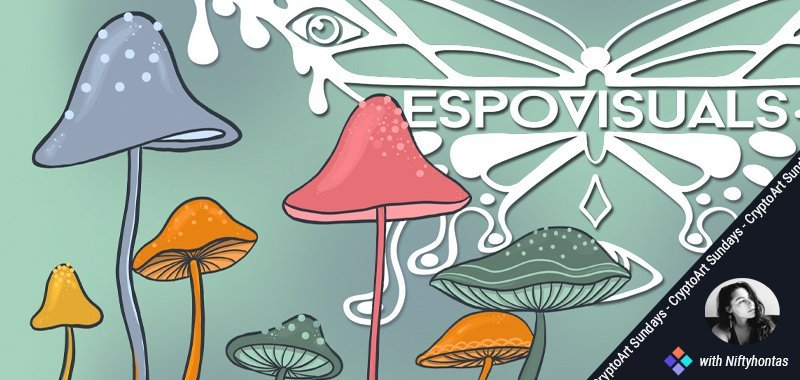 Welcome art lovers to CryptoArt Sundays! This weekend we have the awesome artist Espo Visuals aka Sydney. I came across one of her podcast episodes, and after checking out her creations, I wanted to get to know the artist behind the beautiful art more. So here we are.
Personally, I love butterfly designs, so the butterfly logo of her brand attracted me right away. 
Sydney makes and sells hand-drawn digital art on the Solana blockchain. She also does a bunch of other awesome stuff and has a vision for the future of NFTs and art.
But let me not give it all away here, check out our interview below to find out all the juicy details!
How did you find out about the NFT space, and what attracted you to create your own NFTs?
I found out about the NFT space by starting to learn about and investing in cryptocurrency which led me to discovering NFTs.
What attracted me to create my own NFTs was how myself and other artists could use blockchain technology to sell art and build community and brands, which I knew I wanted to learn how to create so I could share and teach other artists.
How often do you create?
I create daily, recently I have gotten back into exploring traditional mediums like gouache and acrylic painting.
What is your creative process?
My creative process can look many different ways depending on what I'm creating. For videos some will be scripted and thought out, others random. For art sometimes I'll flush out more of a developed concept or sometimes a dream will lead me down a surreal spiral of visuals.
What do you think the future of CryptoArt will look like?
I think NFT art will look like all art. The technology will change the music and video industries, be used in the traditional art world as proof of ownership, with fashion and creative collaborations. It will look like art mixed with philanthropic causes. It will look like digital art assets tied to access keys and memberships, tickets and experiences, and education.
What are you currently working on?
I am currently working on developing a clothing line with a 50% revenue share split with my NFT holders and a charity, along with focusing on developing educational video resources to onboard women and artists to the Web 3 space, and creating art around the clock.
Where can collectors find your work?
Collectors can currently find my work on SolSea, or all my work is on my website.
Tell us more about your podcast
I have a podcast with my brother where we interview artists from different creative industries and discover how they got to be where they are. The goal is to empower creatives with tools for success and to maintain a successful creative practice.
Source NFT Plazas