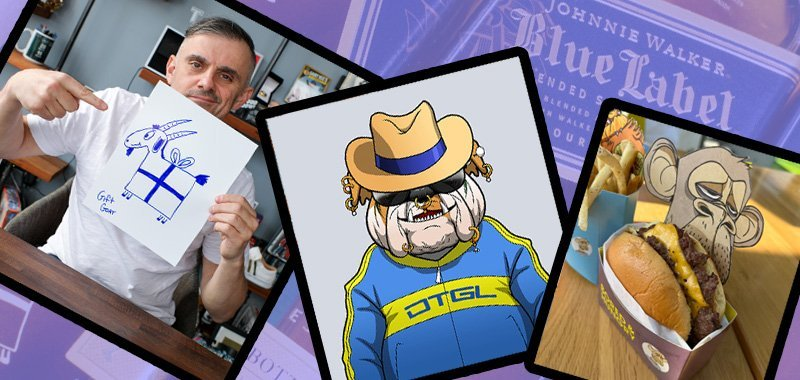 The popularity of NFTs skyrocketed in the last year. But despite its high demand and a slew of celebrities invested in many NFT collections, some think it's only a matter of time before NFTs are doomed. However, it's a new morning for NFTs.
Creators are turning to using utilities to reset NFTs' use cases and blockchain investments. Although there are approximately 23 million assets or types of utilities attached to NFTs, of those only a handful have begun to deliver their perks directly to collectors and investors in real life.
These real-life experiences, products and services are stepping into the metaverse to change the true value of NFTs. And though the true value of NFTs increases the value of the utilities or the fringe benefits and perks of owning a piece of the collection, the NFT also becomes more valuable and rare.
Let's take a look at some of the leading NFT collections and how they are delivering value using IRL utilities.
NFTs with IRL Utilities and Their Perks
Vee Friends NFTs Popping Bottles
CEO millionaire Gary Vaynerchuk initiated the renowned Scotch whiskey brand, Johnnie Walker, into Web3. VeeFriends' "Gift Goat" NFT will have access to an IRL luxury gifting experience featuring:
A Johnnie Walker Blue whisky kit with a custom-designed, limited edition Blue Label bottle, and drinking accessories.
Special activation at the world's first NFT-ticketed conference, VeeCon.
555 Gift Goat tokens in circulation granting holders 18 luxury gifting experiences curated by Gary Vee over three years.
The collaboration was activated at this year's VeeCon NFT-ticketed conference in Minnesota on May 19-22.
DoggTalk NFT — The Conglomerate
DoggTalk NFT offers multiple IRL utilities with up to 50 percent retail discounts and exclusive access to premier products including:
Specialty Limited Edition Bourbon By Striped Pig Distillery.
CBD Mixers By Royalty Spirits.
Hemp Delta-8 CBD products by Queen & Pharaoh.
A cannabis brand with CampNova paired with a delivery partnership with YamsDelivery.com.
Exclusive access to special tasting experiences in spirits and other consumer packaged goods partnered with DoggTalk.
Furthermore, DoggTalk NFT is currently releasing samples of their IRL utilities with potential NFT collectors through their whitelist and community by giving away Knotfest Roadshow with Slipknot and Cypress Hill concert tickets. In partnership with CampNova and Heavy Grass Cannabis Brands, the show is set for June 18 at North Island Credit Union Amphitheater in Chula Vista, Calif.
Ape-In Productions
Ape-In Productions, AIP, is the first NFT-based record label, with signed artists and released music. More recently, the founder and Grammy-winning super producer Timbaland and his partners, also BAYC collectors, released TheZoo's debut music video, "Apesh!t."
TheZoo is a hip-hop group composed entirely of BAYC characters. The song and video, "Apesh!t," features Lincoln Aperaham, Safari 'Rari, Oro Blanco, Kid Kalahari, MoMoney, Wurdz Smith, and Congo, as well as cameos from other Bored Apes and Mutant Apes, such as Jenkins the Valet, a well known Bored Ape signed to Creative Artists Agency (CAA). Timbaland produced the track and it was also released in conjunction with the AIP label origin NFT.
According to Jonathan Tenenbaum, CEO, the AIP NFT provides holders access to music and art, as well as other exclusives such as access to the AIP community, merchandise, talent contests and "Talent Pool," which allows NFT holders the opportunity to use their NFTs in AIP projects.
Bored & Hungry — The First NFT Restaurant
People curled around the neighboring streets, on April 9, waiting for up to four hours on Seventh Street in Long Beach, California, to be the first cohort of foodies to eat burgers and fries with an ice cold Cola inside of a Bored Ape cup, at the first-ever NFT-turned-IRL restaurant in the world.
Bored & Hungry is a part of the Food Fighters Universe, an NFT-backed restaurant group founded by Andy Nguyen, a notable restaurateur, alongside Kevin Seo and Phillip Huynh.
Nguyen and Seo created a brand by integrating their NFTs' digital art and wrapping their restaurant walls and food packaging with IP artwork from the BAYC and Mutant Ape Yacht Club. By connecting food and Web3 with their NFTs, Bored & Hungry also gives access to the metaverse to those who are merely interested in a good meal.
At first, Bored and Hungry's initial plans were to be a 90-day pop-up restaurant, but since its opening changed to a permanent spot in Long Beach, California, becoming an overnight LBC staple.
And though it may appear the hype around NFTs is just that — hype, blockchain innovators and creators are tapping into a global market size that has already reached $41 billion, proving there is space for more than just creative jpegs and quick buck schemes. If anything, the NFT market is rapidly expanding and changing by providing collectors and investors with a new diverse range of NFT uses.
Source NFT Plazas