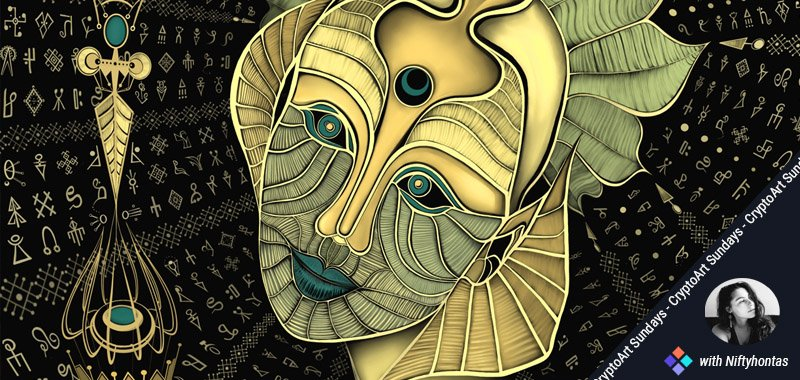 Welcome to the best part of Sunday – CryptoArt Sundays! After almost two successful years of running this column and supporting the best artists in the space, this will be our last weekly NFT art interview, and our interviews will take place biweekly from now on. This is because we're making room for NFT photographers, whom we will start featuring biweekly as well. Stay tuned for the release of the brand new column very soon!
This week I'm thrilled and super excited to introduce you to an incredible and mystical artist – Lunula. I adore her artistic style and blend of colours, and especially her other-worldly collection Cosmic Fairies. So, let's dive in and find out more about her NFT art journey and see some of the stunning artworks she has created so far!
How did you find out about the NFT space, and what attracted you to create your own NFTs?
I found out about the NFT space from my friends about a year ago. After getting to know the dynamics of the NFT community, I became very eager to explore the digital medium!
I loved that so many unknown artists from around the globe put out NFTs and sold very fast in comparison to exhibiting their art in traditional galleries! Artists had access to this new realm of opportunity as long as they had an internet connection and some technology.
What is your creative process?
Being recently self-taught, I only did traditional paint-on-canvas type of art before. I had to purchase a tablet and continue improving my skills. I ended up liking Krita, a free program very similar to Photoshop and started to love digital drawing so much. It's so cool to see where it's taking my creativity to!
The initial line work is usually very quick and satisfying. It feels like I'm reverse chiseling out the lines from the ethers, and I love it! Then the coloring part is more difficult because I'm indecisive about what colors to use. There are so many possibilities and I usually love each one! But I ended up sticking to gold, silver and vibrant metallic palettes over simple black backgrounds.
Have you connected with the NFT community?
After being introduced to Twitter, I became fond of the spaces hosted there. Once I got over my shyness, I started to speak more and make interesting connections! It's been fun vibing out with diverse souls from around the globe.
A few times now, I've been on spaces that turned into profound experiences with beautiful souls supporting one another and sharing with vulnerability, straight from their hearts. The NFT community makes me feel excited and very hopeful about the future of artistry!
Tell us more about your Cosmic Fairies collection.
I ended up making a 1/1 collection named "Cosmic Fairies" on OpenSea. The utility of each of the NFTs is the intention behind it and what the image is supporting its collector with, such as; alchemy, unity, and brilliance. Each NFT tells a story that is rooted in mysticism, folklore, and mythology. The Cosmic Fairies collection grew out of my experiences with cannabis and psychedelics. Very often when I smoke cannabis, I receive an image that is imprinted in my mind until I get it out by drawing.
A lot of intention went into the glyph symbols present in Cosmic Fairies. They are a representation of interstellar codes of light. Like a language, these codes emerge out of the nothingness and weave together into the tapestry of existence.
Drawing glyphs is a meditative experience for me. I feel into what is needed in each spot and go from there. It feels fun to make them up as I go. A few were inspired by or taken from the proto-Slavic glyphs. I ended up putting the same exact sequence, that spells my first name, in each artwork as a form of a hidden signature.
Cosmic Fairies were inspired from mythological entities and archeological figurines, like the ones of the Cucuteni–Trypillia culture, a matriarchal civilization, in what is now Romania, Moldova, and Ukraine. This culture predated the earliest known cities of ancient Mesopotamia! I felt like my inner cosmic witch woke up when I saw the Cucuteni goddess figurines and pottery!
What are you currently working on?
I'm currently working on NFTs that depict star portals to add to the same collection. I just completed the first one named Garden of Mu. I wanted to try something different, so I'm releasing it as an edition of 10/10 instead of 1/1. That way collectors with a smaller budget could have access to the collection as well.
It will be very heartwarming for me to get to know the collectors and hopefully form a community of cosmic witch art enthusiasts!!! The NFT space is a whole new realm full of opportunities and fun connections. I'm stoked to see it bring out something meaningful from humanity. Hopefully, it will usher in the golden age of artistry!
Source NFT Plazas