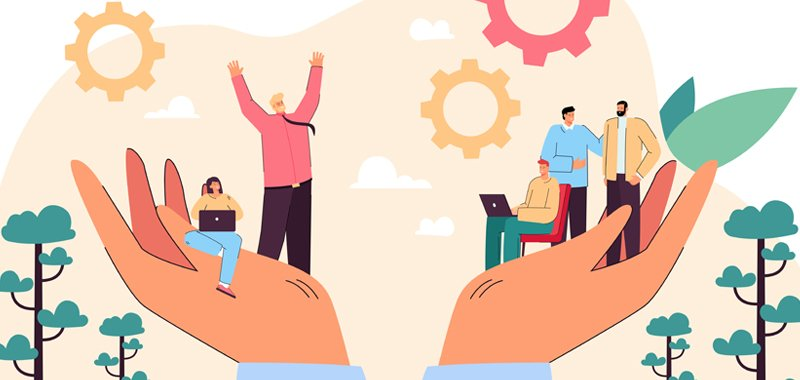 It suffices to tag the year 2021 as "the year of NFTs". NFTs erupted in popularity after the sale of Beeple's 'First 5,000 Days' NFT at a whooping $69 million. This led other blockchains, such as Solana and Tezos, to begin developing their own NFT marketplaces due to the soaring demand for NFTs. In addition, the term 'NFT' became Collins Dictionary's word of the year in 2021.
No doubt, NFTs have come to stay in the crypto world.
One crucial factor behind the success of NFTs is the communities which formed around NFT projects. They are the social media vanguard of most NFT projects.
What is an NFT Community?
An NFT community is an online group of NFT enthusiasts who actively create, sell, buy, collect, and debate or hype NFT projects. It is a gathering of creators, investors, fans, and enthusiasts of the nascent digital asset.
NFT communities are spread across various social media platforms like Discord, Twitter, Telegram, Reddit, and other forums where they have a fan base. Although, most NFT communities are usually found on Discord, Twitter, Telegram, and sometimes Reddit.
The concept behind a community is to have a medium of interaction amongst users and enthusiasts to share ideas, opinions, and related topics that could breathe a brighter future into a project.
How Can You Build Your Own NFT Community?
Building a community from scratch is not a day job; it requires thorough and remarkable commitment. The following are essential steps to consider before creating an NFT community.
1. Define Your Target
Your audience is your target. Just the way you can't sell beef to vegetarians, you can't preach NFTs to people who don't know jack about it. Know your audience before setting out.
How?
In your planning phase, you must understand the niche of NFTs you're about to create. Do you want your audience to be pet enthusiasts, music lovers, art lovers, gaming, or online characters?
This should guide you on how your community will start and where you should seek your audience. Knowing your target audience will help you know what your community wants and expects from the project.
2. Develop a Vision and Strategy for Your Community
Now that you have an idea of who your target audience is, the next step is to craft your vision and the strategy to achieve it.
Your vision is what you intend to achieve with your community in years to come, while your strategy should be the guideline or plan that will make your vision feasible.
Most times, your vision might be exciting, but the strategy to achieve it might ruin the vision. Your strategy should convince your audience to hop in and trust in you to lead them to that envisaged future.
3. Select Your Media Channel
The ideal place to start building your NFT community is social media. Twitter, Discord, and Telegram are the most common social media channels for community development.
Discord was initially a gaming platform but has turned into a medium for instant messaging and discussions about NFTs and crypto.
Twitter as a micro-blog is suitable for concise announcements, messages, and swift interactions between you and your community. This is due to the limited number of characters you can send on Twitter.
Telegram makes room for elaborate and open discussions within a community if not restricted by administrators. The audience can seamlessly navigate through information or announcements made in their absence. It also enables your community to interact in real-time.
4. Interact and Engage with Your Community
While building and developing your community, try to interact with your community members personally. This is different from media posts or announcements.
Relate with them by holding AMA (Ask Me Anything) sessions on your projects and about your community. This can be done on Telegram and Discord, where you can hold video and audio live sessions, and also on Twitter Spaces.
5. Partner with Viable Projects in the Industry
Partnering with notable companies and platforms with unmatched projects in the industry will shoot your project's status and its community higher. Your audience will see you're not here for frivolities, making them take your community to a broader audience.
6. Organize Giveaways to Make Your Community Lively
Organize giveaways and freebies in your community; it sparks up the atmosphere and makes your audience excited to stick around. It can come in the form of a quiz about your community or projects to further entrench their loyalty.
7. Be a Man of Integrity and Repute
As you're building your community, don't be overwhelmed by what you've achieved in a short time. Make it a goal not to derail from your vision; it's why you have a community in the first place. Deliver on your promises to earn your community's loyalty.
8. Request for Feedback from Your Community
Generally, the essence of having a community is to communicate with each other regarding your community and projects directly. Listen to feedback from your community and see what you can improve on.
9. Avoid Being the Jack of All Shows
Most times, due to the perpetual growth of the audience, you can't be running every show in your community. Hire a moderator or a community manager who can do specific tasks effectively. You can't be running marketing, head of communications, or director of partnerships and still be the moderator. Hire someone to engage the community.
Aside from spending a sizeable amount of money on marketing, building an NFT community paved the way for success of many NFT projects because it generates buzz and positive hype, which helps to promote a project organically.
It is worth noting that building a healthy community can't be achieved in a day, and it is not as easy as many enthusiasts think. The driving force behind a healthy community depends on how beneficial your project is to you and your community.
Your vision and roadmap should reflect how much you care about your community, pay attention to their yearnings and worries, and make them see your project as theirs by carrying them along at each milestone.
Source NFT Plazas