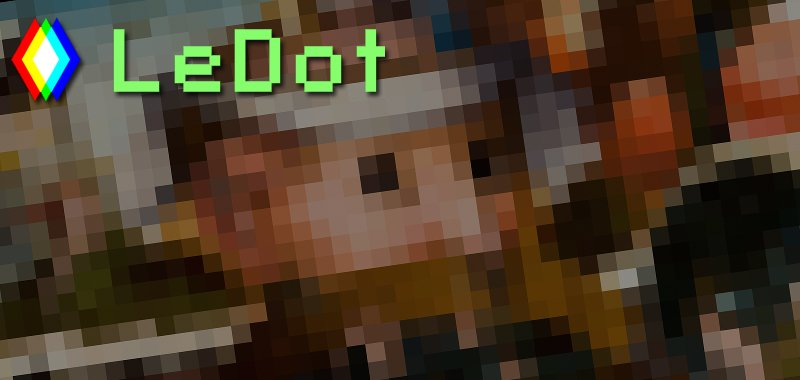 In the latest intersection of NFTs, art, and popular culture, LeDot has announced a new 10,000-piece NFT project that embraces pico art. Referring to 'tiny picture computer image', this art style uses pixelated images that are synonymous with the 1980s computer games to represent people in digital ecosystems and images.
Now, fans can create these images for themselves through LeDot. More specifically, they will be able to create their own pico art piece and then mint it as an ERC721 token on a 100 by 100 canvas.
Create Your Own Pico
As LeDot has explained, its NFT project will see 10,000 blank pico canvases minted, with a single wallet being limited to 10 NFTs. In the 6 months following the public mint sale, users can upload whatever approved content they want and create their own NFT.
In the last few months, pico art and variations of it have become very popular on social media, with artists posting their works to sites like TikTok and Instagram. But creating pixel art using traditional tools like Photoshop comes with some road blocks, such as a limited number of pixels to work with.
However, with LeDot users will be given way more voxels to work with, which means being able to add more detail and express themselves in even more ways. And when these amazing works are done, they can own them as NFTs.
The Future of Pixels
It's safe to say, pixels are here to stay. Some of history's greatest figures, both philosophers and artists, were all fascinated by tiny, pixelated images.
Not all pixel art is created equally, though. There are different levels of talent and skill required, just like in any other form of art. While some artists are able to produce stunning works of art that are absolutely free of any unsightly spaces, others must rely on tricks like blur to keep their work looking neat.
They may not be for everyone, but for those who appreciate the skill and simplicity that go into a well-done pixel design, it's well worth it. With that said, the LeDot project is here to make pixels fun, so get ready to  make your first pixelated non-fungible canvas. If you're a fan of the '80s and of early '90s computer animations, you won't be disappointed!
Source NTF Plazas