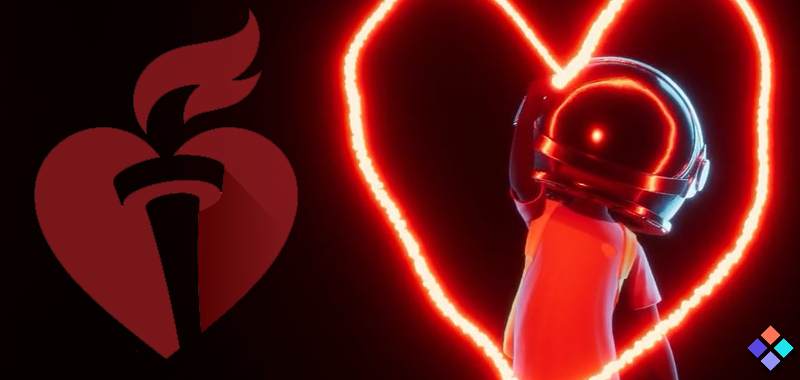 Ex-baseball player turned prolific NFT artist, Micah Johnson, has teamed up with the American Heart Association (AHA) to help raise awareness through NFTs. The initiative comes during American Heart Month and seeks to raise awareness for cardiovascular disease, and promote healthier lives for all globally.
Dubbed "Aku's Heart," the NFTs feature a character named Aku, who is a young black boy wearing an astronaut's helmet. The character is inspired by his nephew's question about whether astronauts can be black. The sale of the NFTs will kick off tomorrow on Manifold.xyz, an NFT minting platform, and end on February 4th. Each piece will go for 0.03 ETH, or $47 as of press time, and 50% of the proceeds will be donated to the AHA.
Johnson is a former professional baseball player who has transitioned to being a renown digital artist. His work has earned wild reviews, prompting Fortune Magazine to include him in their list of the top 50 most influential individuals in NFTs.
This Campaign Is Close To Micah Johnson
The former baseball player says this initiative is near and dear to his heart because he lost his grandfather to the disease in 2015. In a statement, he notes, "With my family history of heart disease, the thought that a character I created can play a role in helping drive awareness and hopefully solutions for my family and potentially even me is incredibly humbling."
Raymond Vara, the AHA board's volunteer chairperson, is equally enthusiastic about the initiative. "As we kick off American Heart Month, we are excited to have Micah Johnson raise critical awareness in this new way." Johnson "started this art project to inspire youth—something the American Heart Association is passionate about too, whether it's encouraging kids to live a healthy life or pursue careers in science and medicine."
According to the AHA, heart disease is the number one killer worldwide, with stroke ranking second. Global statistics indicate that about 60 million individuals develop heart complications each year. In 2019 alone, about 19 million people lost their lives to the disease.
Source NFT Plazas