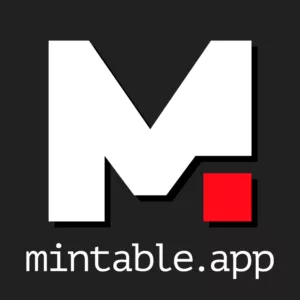 Founding: 2018
NFT Marketplace Rating:
Mintable.app, https://mintable.app/
Mintable is a marketplace to buy and sell digital items on the blockchain
With Mintable you can easily turn your content (such as files, artwork, music, PDFs, images, etc) into an item that lives on the blockchain.
Digital items live on the blockchain by using smart contracts – and Mintable lets you create a smart contract – without having to worry about coding/programming it yourself.
You just fill in the details about your item and then the item and smart contract are created!
Founded in 2018 by Zach Burks, Mintable.app did a successful public launch in December 2020 has had over 18,000 users transacting on the platform. After its initial launch, Mintable.app delivered a series of breakthroughs in minting – such as being the only marketplace that allows gasless minting. This feature has enabled thousands of artists to enter the NFT space without having to own any crypto first. Within 3 months of launch, Mintable has done over $200,000 in sales and has had over 32,000 items minted as non-fungible tokens on the blockchain.
Source NFT Culture