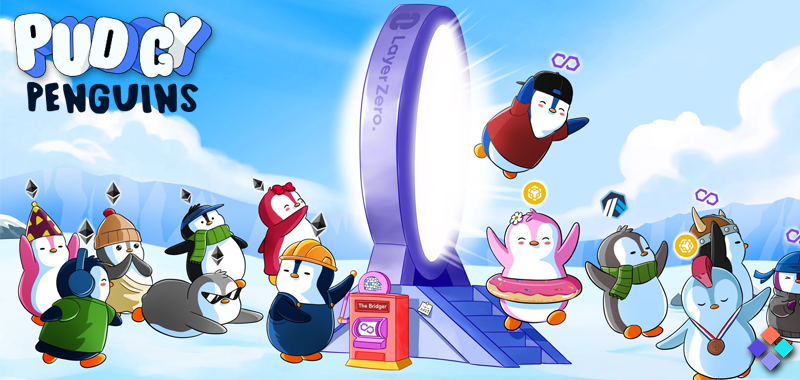 Pudgy Penguins, an Ethereum-based NFT collection, has partnered with LayerZero to enable cross chain transactions. The project seeks to reach millions of Web3 users by utilizing the capabilities of various chains to aid access. Thus, it has chosen to work with Polygon, BNB Smart Chain, and Arbitrum thanks to their "rapidly growing usage and exposure."
Natively based on Ethereum, Pudgy Penguins is composed of 8,888 hand-drawn penguins with unique characteristics. Lately, the project has witnessed an uptick in transaction volume, averaging almost 2 million a day. However, this has created congestion on the Ethereum network, with gas fees shooting up by 1,000%. Thus, the project feels the current infrastructure is limiting as it seeks to onboard millions of new Web3 users.
For this to happen, it must be "easy for the next wave of users to be able to interact and become part of the pudgy Penguins ecosystem." In addition, users should become part of the "ecosystem without having to worry about the huge gas fees."
Thanks to cross-chain technology, the Pudgy Penguins community can have the best of both worlds: "provenance" and "user experience." As a result, has teamed up with LayerZero, an omni-chain interoperability protocol that allows any project to go cross-chain. Using the protocol's technology, Pudgy Penguins can now travel seamlessly across Ethereum, Polygon, Arbitrum, and the BNB Smart Chain.
Why Pudgy Penguins Chose The Three Chains
On their choice of Polygon, Pudgy Penguins notes that the chain has demonstrated excellent business development. Over the past few months, Polygon has managed to interact with the likes of Instagram, Reddit, and Robinhood. It was this ability to attract a new wave of users to become a part of the Web3 community that proved too appealing to Pudgy Peguins.
The project choose BNB Smart Chain (BSC) for its low gas fees and its commitment to inclusivity, and Arbitrum for its suitability for DeFi development.
That said, after you bridge your Pudgy Penguins NFTs to any of the chains, you will receive a commemorative SoulBound token, that serves as a souvenir tied eternally to your wallet.
Source NFT Plazas