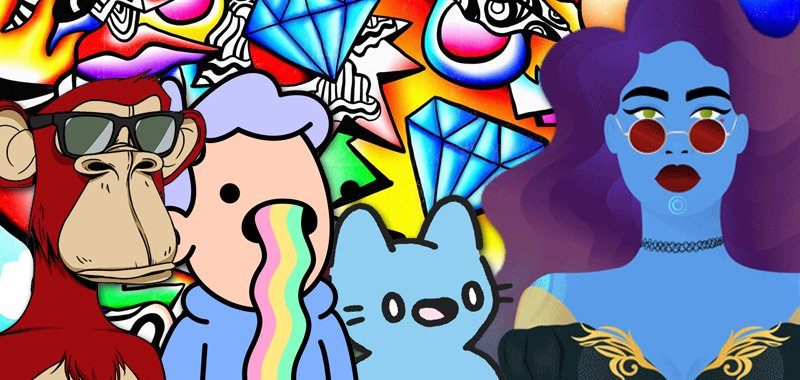 NFT tech has opened us to a new frontier that the world hasn't seen before, but what makes a good NFT? The NFT space in 2022 is very different from the collector hype of 2021, there is much more focus on quality, and utility as the market begins to comprehend adaptive roles for NFTs. Currently, there are unique and not-so-unique NFT projects getting the limelight. In this article, we'll explain how to spot a good NFT in 2022.
Good NFTs Have Themes & Artistic Flair
The best decision you can make is to find an NFT with long-term potential. Digital art makes up most of the top-selling NFTs and the most successful collections; each has its distinctive style, making them instantly recognizable to anyone within the know.
Take renowned NFT artist Seneca, who has mastered her visual and conceptual craft. After working on immensely successful projects such as the Bored Ape Yacht Club, which had a concept based on collectible rarity. The artist has since taken a completely new direction in her work, however, she has stayed consistent in keeping with a strong concept in a new artistic style.
Her new work, titled 'Portraiture by Seneca' uses themes of invocation, emergence, endurance, and persistence with the aim of invoking 'feelings of something cosmic and otherworldly.'
Like Seneca's works, some of the best NFTs have a solid concept and likely tell a story through imagery and content. Ask yourself, what style interests you? Minimalism, postmodernism, pixel art, or anime, whatever your interest, choose something striking and something you enjoy.
Other NFTs, such as those within The Sandbox and Decentraland are used to actually build upon a virtual universe. While they tend to be less visual-based you can't get a concept any more clear than that. The bottom line is to avoid investing your time in an NFT that has a flimsy concept. There are plenty of monetized photo dumps out there, so remember to ensure that your NFTs' concepts and styles are clear and if possible, meaningful.
You can check out more amazing CryptoArt on marketplaces such as SuperRare and KnownOrigin. OpenSea is the most popular NFT marketplace, which houses a diverse gallery of collections and all kinds of NFTs
Application and Utility of Your NFT
Owning an NFT as a collectible asset is fantastic, however many NFTs go further by having a tangible utility as well. These days utility is a solid indicator of an NFTs value, which is an important factor in deciding what makes a good NFT. These days owning the right NFTs can unlock lasting access to restaurants, festivals, nightclubs, competitions, and also in-game content which has been used by festivals like Coachella.
One of the most exciting applications of NFTs is the ability to make a passive income. Generally, this can be achieved through airdrops, staking, or in-game activity.
Owning certain NFTs will grant you access to airdrops. Essentially, creators will reward you by gifting a free asset which tends to drop before a new NFT collection hits the market. You can sell for profit, or add to your growing collection. The choice is yours.
Some NFTs, particularly within the Web3 gaming space are used to earn cryptocurrency which you can use to gain a passive income through staking. With this, you'll be able to earn an annual percentage yield (API) through holding long-term.
In the world of The Sandbox, users can monetize their NFTs by staking its native token $SAND. You can also stake the NFT land that you own within the popular Web3 game Axie Infinity, and finally in the world of Decentraland passive income can be achieved by renting out your NFT space to other players to use for entertainment or business purposes.
Conclusion
To summarise, the best NFTs have a clear purpose and they will have a niche audience that they will draw value from. Visually unique NFTs are sought after and they're likely to hold value despite poor market conditions. If your NFT has a utility, that provides either physical or in-game benefits such as the ability to make a passive income through it, then you're likely on to a winner.
Source NFT plazas