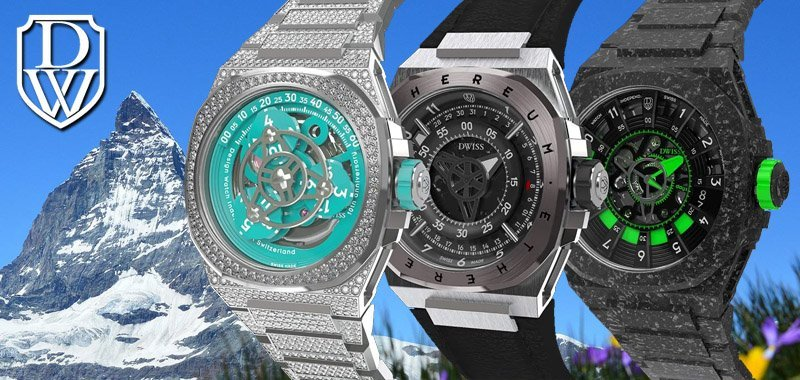 As the Web3 revolution takes hold, only the sharpest dressed will draw the attention of the masses. What better then, than a hyper-realistic piece of high-fashion virtual armwear from luxury watch manufacturer, DWISS.
Heading to the NFT space in the near future, DWISS will launch 10k incredibly rendered NFT watches. Fine collectibles that will attain more and more utility as the project grows. As a result, the team will investigate methods of bringing DWISS wearables into Decentraland and The Sandbox, in addition to opening a virtual retail store in both worlds.
Further down the line, DWISS will also integrate the non-fungible wristwatches into their bespoke AR application. All in addition to incorporating the dial designs as a smartwatch feature and enabling owners to show off their magnificent timepieces in both the virtual and everyday worlds.
DWISS High-Fashion NFTs
At an as yet unconfirmed date, DWISS will launch a grand collection of 10k algorithmically generated non-fungible tokens, each with a fine array of designs and features of varying colour and scarcity. All ready to spark a little high fashion into the Web3 world, and its ecosystem of connected metaverses.
Each watch will qualify its owner for entry into the DWISS collectors' community and provide exclusive access to events and experiences within the DWISS ecosystem. This will allow for participation into a DAO-based voting system, giving users a say in future designs, as well as qualifying for a 15% discount across the DWISS range of physical products.
Following the initial launch, DWISS will take just 15% of income as profit while distributing a further 15% back into the community through various sustained efforts. Then, use the remaining 70% of mint proceeds to fuel further development, promotion, utility and artwork.
$500k DWISS Physical Watch Giveaway
To celebrate its grand foray into the Web3 realm, DWISS will go all out with a fantastic $500k IRL watch giveaway. As such, those with a touch of luck on their side will stand to win one of 300 genuine DWISS timepieces. All works are designed with precision and mechanical ingenuity, demonstrating both style and substance in equal measure.
The first 100 items, worth an average of $1,000 each, will reach the fortunate few immediately after the mint. To enter, interested individuals can head to the DWISS Sweepwidget competition page and register their interest. An exacting vehicle that will also double as the whitelist allocation tool.
Furthermore, DWISS has reserved an additional 200 finely tuned chronomantic devices worth around $2,000 each. Each set aside for anyone with the good fortune to be on the receiving end of a Tiffany colour dial.
Conception and Design
DWISS' entry into the non-fungible realm is the brainchild of company founder and chief designer, Rafael Miranda. An exceptional watch making talent known worldwide for his groundbreaking and innovative compositions. A mastering of the artistry that has rendered him one of the best in his field and won him countless awards.
Now, continuing in the spirit of innovation, Rafael will cross over into the digital sphere, and once again pioneer the realm of watchmaking.
Source NFT Plazas