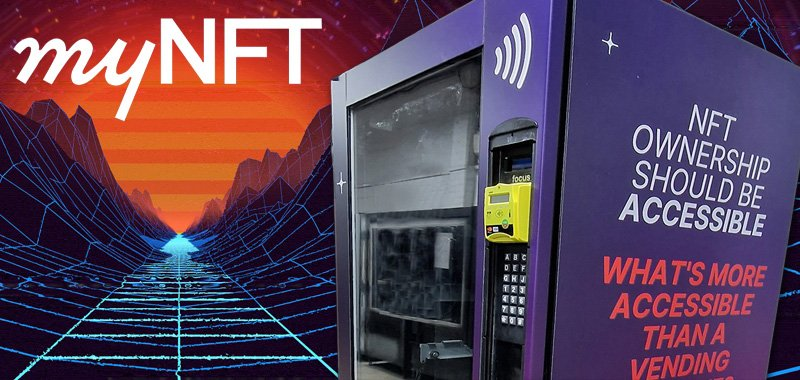 For a lot of people who are not overly familiar with the NFT sector, the thought of buying a digital asset can be scary. Where do you get one? How do you set up a digital asset? Which one should you get? But what if the process of getting an NFT could be easy and as seamless as buying a soft drink?
This is what myNFT, a multichain NFT marketplace is trying to provide by launching the first-ever NFT vending machine in Europe. This development is part of the rollout for its new platform and will be available at the NFT.London conference, from November 2nd to the 4th, 2022.
The vending machine will be set up outside of the conference centre at the Queen Elizabeth II Centre, Westminster, London. Being a high-traffic area, both conference attendees and passersby can stop and buy an NFT.
NFTs for Everyone
myNFT has made a name for itself as an emerging, low-cost marketplace that is accessible to all, regardless of experience in the NFT space. Leveraging the Moonbeam & Polkadot techstack, myNFT is working to be open to all. myNFT also has a 'bid-to-earn' GBM auction system that lets users receive rewards even if they don't get the asset that they bid on. This is the philosophy behind the platform and this is also reflected in the NFT vending machine it has set up.
To buy an asset, users don't even have to have a digital asset wallet and all of the NFTs come at a flat rate of £10. They are all not worth £10 each, however. They were donated from various collections for this initiative and some could be worth up to £1,000. Some of the collections include Dr. Who Worlds Apart, Thunderbirds, and Delft Blue Night Watch.
The Most Simple Way to Buy an NFT
The process of buying one of the NFTs is quite simple; users can pick up one of the envelopes that are put on display and input a code on it. Following this, they can make their £10 payment using Apple Pay, Google Pay, and a host of other methods. Then, they will be prompted to set up their myNFT account and then claim their NFT.
When users buy these NFTs, they can keep them for themselves or trade them on the myNFT marketplace.
As for the proceeds from the vending machine, myNFT has announced that they will be given to two charities, Giveth and Roald Dahl's Marvellous Children's Charity. 
Source NFT Plazas