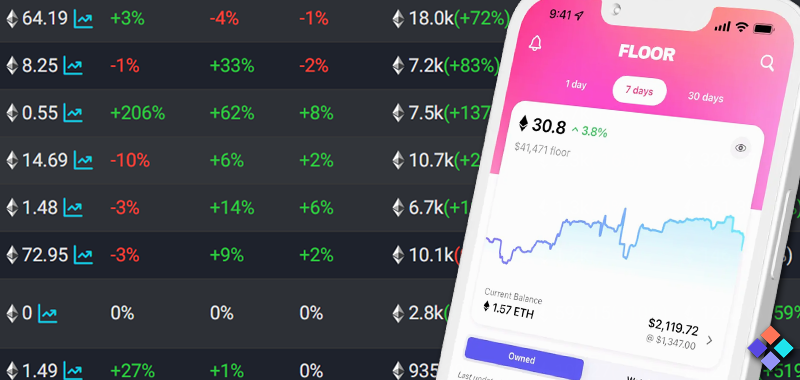 Floor, an NFT management application, has acquired WGMI.io, a NFT data platform. The acquisition of WGMI by Floor will enhance the user experience by incorporating WGMI.io's dataset into the Floor ecosystem.
The move will allow traders to view and manage their NFT portfolios, and with the incorporation of the WGMI.io dataset, users will be able to check assets and associated price floors with their trading volumes. Users are now in for a stronger experience when it comes to managing and viewing their NFT assets.
Additionally, the move will make the user experience expansive by showcasing data to help educate traders and provide them with more information about the NFT market, which will help them make more informed trades. With WGMI.io onboard it will help Floor to provide its degen community with an informative experience when it comes to managing and viewing their NFT assets.
Growing in a bear market
Bear Markets or Bull run, Floor has always focused on providing value to users. As a result, last year its user base grew by 700% with more than 10,000 members linked to more than 22,000 crypto wallets.
In addition, it also raised 8 million dollars led by a group of investors including Initialized Capital, Founders Fund, and Polychain Capital. As a strategic move, the funding will help accelerate the development of the platform and expand its team. The company has also announced plans to expand its services to other blockchain platforms in the future.
Users are in for a treat with Floor's convenient user interface to monitor their portfolios. In the coming time, the company plans to install a feature that would allow users to point out which type of NFT they want. Users would define characteristics and desired prices in their preferences and get notified when a listing meets their requirements.
The Way Forward
The purchase of WGMI.io will give users access to more data and analytics on NFTs, which will help them make more informed decisions about their investments.
WGMI.io is dedicated to research into trading patterns and market activity. With the takeover, Floor will be able to further enhance its user experience by providing even more data and analytics to help users make more informed decisions about their NFT investments. For the seekers of the bigger picture, Floor is looking to become the ultimate destination for NFT collectors to track trends, view holdings, get alphas from the community, and gauge market sentiments, and now with WGMI in the picture, it will leverage every aspect for the community to excel.
Source NFT Plazas