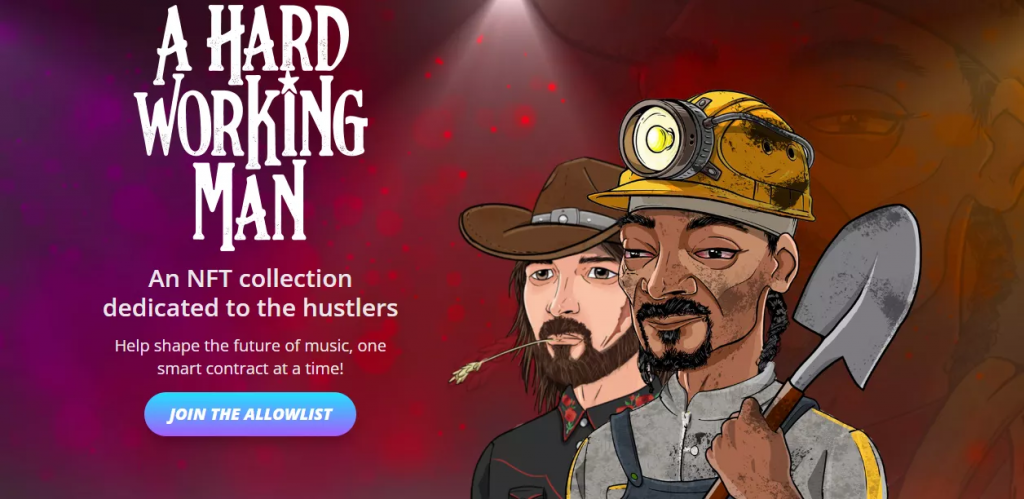 Snoop Dogg is going "all in on crypto and the metaverse", and he is at it again. This time, he will be doing so in collaboration with Billy Ray Cyrus and The Avila Brothers with their upcoming Animal Concerts NFT collection that offers exclusive holder-only benefits.
It's true, the market downturn has seen countless celebrity NFT collections plummeting in value, leaving artists, buyers, and traders across the NFT space disappointed about the money they have lost. This collection, however, symbolizes a change of course for the NFT space, adding utility and tangible value to NFTs to help insulate them against the volatility of the crypto markets.
Today, Minted, the NFT marketplace running on both Ethereum and Cronos blockchains, has announced their new launchpad and that the Snoop Dogg, Billy Ray Cyrus, and The Avila Brothers NFT collection will be dropping on Minted.
Minted Launchpad goes live on 3 November 2022, allowing users to easily mint, purchase and trade NFTs native to both Ethereum and Cronos chains.
Animals Concerts' highly-anticipated NFT collection made in collaboration with Snoop Dogg, Billy Ray Cyrus, and the Avila Brothers to be one of the first drops on Minted NFT marketplace.
Animal Concerts NFT collection to offer holder-only benefits, such as concert tickets and backstage passes.
The Animal Concerts NFT collection will be available for launch by the end of the year.
Meanwhile, Minted is commemorating the go-live of the launchpad at NFT London with a free "Minted @ NFT London" for all early users
November 3rd, 2022 – Minted, an NFT marketplace native to both the Ethereum and Cronos blockchains, today announced the launch of the Minted Launchpad. The launchpad enables creators to mint NFT collections on the two biggest blockchain networks to date – Ethereum and Cosmos. Further it offers collectors the means to browse a diverse array of NFT collections native to both ecosystems. Prioritizing security and ease of use, the Minted Launchpad caters to the growing NFT community sitting at the intersection of the Ethereum and Cosmos ecosystems.
To celebrate the Minted Launchpad, one of the biggest NFT collection drops of 2022, "A Hard Working Man", by metaverse entertainment company Animal Concerts and in close collaboration with Snoop Dogg, Billy Ray Cyrus, and The Avila Brothers, will be minted on the Cronos blockchain through the Minted Launchpad, with a limited number also minting on Crypto.com NFT at the end of Q4, 2022. Crafted by some of today's most influential artists in Web3 and inspired by the country-meets-hip-hop smash single, the Animal Concerts NFT series combines the visual appeal of creative, uniquely collectible artwork with an impressive spread of redeemables spanning live concert tickets, flyaway packages, and thrilling metaverse experiences. The collection was made with the support of Crypto.com NFT and Cointelegraph to bring artwork and utilities to life.
Incubated by Cronos Labs, the ecosystem fund and accelerator of Cronos Chain, Minted's launch of this celebrity-endorsed NFT collection indicates its growing recognition and traction as a key player among top NFT platforms.
Matt Wan, Director of Minted commented: "In parallel to this drop, we are excited to announce the Minted Launchpad, the first step in a pipeline of feature releases and exclusive NFT collections to support the creator and collector communities alike on Minted. This milestone is symbolic of the stratospheric rise in community and utility-led NFTs on Minted. Further, NFT collections such as "A Hard Working Man" will not only ignite community engagement by incentivising artists' fans onto the network, but will also serve to bridge the gap between Web2 and Web3 users. "
Colin Fitzpatrick, Founder and CEO, Animal Concerts said: "We chose to launch the highly anticipated NFT collection on Minted due to its access to both the Ethereum and Cosmos ecosystems. Because Snoop Dogg, Billy Ray Cyrus, and The Avila Brothers all tout major existing fan bases, our intention has been to make the collection as accessible as possible to fans. As such, we have opted for an NFT platform that is secure and easy to use. We look forward to seeing the growth and evolution of the 'A Hard Working Man' NFT collector community."
An NFT Launchpad to Bridge the Gap Between Ethereum and Cosmos
With seamless UX, the Minted Launchpad allows users to easily and intuitively mint NFTs, trade NFTs in the secondary market, and stake the $MTD token to earn rewards. To commemorate the debut of the Launchpad at NFT London, Minted will be offering users the chance to mint a free NFT, "Minted @ NFT London", from 3-8 Nov to showcase the functionality and ease of use.
Looking ahead, Minted will continue to launch additional features, such as the Minted NFT staking service and a function to enable users to deposit select NFTs into existing vaults to boost $MTD rewards. Through continued product development, Minted looks to strengthen the utility of the NFT landscape and provide a robust offering to the NFT community.
Holder-Only Benefits For Holders of "A Hard Working Man"
Owners of "A Hard Working Man" NFTs will gain exclusive access to features within the Animal Concerts ecosystem such as live concert tickets, backstage passes, merchandise, metaverse concerts, member events, and wearables. Further, specially selected holders of the NFTs will be able to attend performances and access content from superstars such as Snoop Dogg and Billy Ray Cyrus, with additional benefits still yet to be announced.
About Minted
Minted is the first significant NFT platform that sits at the crossroads of the Ethereum and Cosmos ecosystems and brings the world's top NFT collections to Cosmos, as Cronos is the first EVM-compatible chain built on the Cosmos SDK. Minted aims to take advantage of this unique positioning to grow and become one of the top NFT platforms overall.
Minted is a project incubated by Cronos Labs, the ecosystem fund and accelerator of Cronos chain, and has a commercial partnership with the custodial Crypto.com/NFT launchpad and platform.
Since its launch in August, 2022, Minted has gained significant traction within the Cronos ecosystem, its initial area of focus for development. Minted has had diverse and fruitful collaborations with Cronos projects, including NFT collections like VVS Miner Moles (from the VVS protocol), Argonauts (from the Argo protocol), Cronos Cruisers, Cronos ID, and Defira Heroes.
About Animal Concerts
Animal Concerts is reinventing the future of live events and the music ecosystem. From interactive metaverse shows to immersive live events, the next-generation entertainment platform is transforming the fan experience and democratizing the music industry through the introduction of Web3 technologies spanning NFTs, VR, cryptocurrencies and more. To date, Animal Concerts has collaborated with world-renowned artists and brands including Alicia Keys, Balenciaga, Busta Rhymes, FUTURE and Snoop Dogg to create personalized, unforgettable moments and content.
Source NFT CULTURE