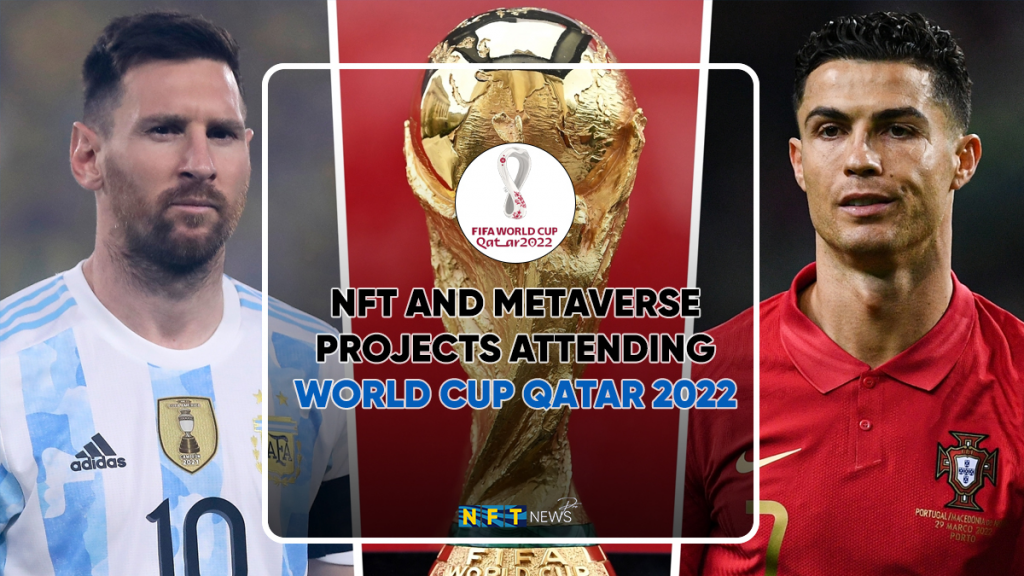 The FIFA World Cup 2022 will be played from 20 November to 18 December in Qatar. It will be the 22nd edition of the competition and there will be 32 teams in the field. The World Cup is the most-watched sports event in the world, with over three billion viewers worldwide. It is believed to attract lots of soccer fans to the stadiums of the hosting country.
Though, Qatar World Cup will provide more than just a physical tournament. This year, the World Cup comes with a big advance as lots of NFT and metaverse projects and companies also attend the event to satisfy digital world citizens.
In the following, we will review NFT and metaverse projects and companies that have joined Qatar World Cup 2022 to increase the worldwide hype of the tournaments.
1. Crypto.com
To begin, FIFA announced Crypto.com as the official sponsor of the FIFA World Cup Qatar 2022. It is a big chance for Crypto.com to become the official bitcoin trading platform sponsor of the event, since it will get massive branding exposure both inside and outside the stadiums.
Crypto.com has had high-profile partnerships with a wide range of top-tier sports and entertainment businesses, such as racing, mixed martial arts (MMA), basketball, ice hockey, and football. With over 10 million customers worldwide and hiring 4000 employees, the company can provide the highest levels of security, privacy and compliance to all soccer fans. Therefore, new and existing customers can attend matches or win unique prizes during the tournament.
2. Visa
FIFA also announced Visa as its Official Payment Tech Partner. On November 2, Visa revealed Visa Masters of Movement to offer fans a unique hybrid experience featuring a pre-event NFT auction and immersive activation at FIFA World Cup Qatar 2022. The auction includes NFT art inspired by the iconic goals from five legendary football players, Jared Borghetti, Tim Cahill, Carli Lloyd, Michael Owen, and Maxi Rodriguez's historic World Cup goals. The highest bidder got the digital arts. These NFTs are now available on Crypto.com.
An interactive pitch at the FIFA Fan Festival in Doha, Qatar allows fans to create digital art inspired by their signature movements. Crypto.com empowers eligible fans to mint the digital art into their own NFTs. Fans will enter a digital LED pitch equipped with tracking tech to capture and transform their iconic movements into NFT art. Besides, fans choose the color scheme according to their favorite national colors. Digital art will be emailed as a souvenir and eligible fans can choose to get the digital art minted as a unique NFT.
3. Upland
As an attempt to educate soccer fans about the metaverse and web3 technologies, Upland and FIFA announced a partnership that allows Upland community and soccer fans to collect, trade, and own FIFA NFTs.
FIFA provides fun gamified experiences in the world's largest open metaverse offered by Upland. Upland has over three million registered accounts. For the FIFA World Cup Qatar 2022TM, users can digitally watch the tournament from a fully built replica of the Lusail Stadium, as well as a FIFA World Cup TM branded town, stores, and showrooms.
Besides, Upland also introduces a soccer collecting game for the FIFA World Cup Qatar 2022, including a limited number of mystery packs with varied rarities. The game includes not only country-specific team crests, boots, and jerseys but also previous Official World Cup TM logos, posters, and mascots. It allows fans to create digital collection albums for all 32 featured country teams.
Fans can own higher scores through completing collections, and those with the highest scores will win rewards such as the Lusail Stadium as metaverse virtual property. Other fundamental game aspects include the ability to get one-of-a-kind gifts from this year's tournament, such as video clips of the games that are not available directly from Upland.
4. Roblox
FIFA World, the virtual ecosystem of FIFA, is available in the Roblox metaverse. FIFA releases its virtual world in Roblox in order to prepare soccer fans for Qatar World Cup 2022. FIFA aims to get more people interested in soccer and the most popular sport event around the world by giving them games, immersive experiences, and special rewards.
FIFA Chief Business Officer Romy Gai stated that "FIFA believes that such a multi-layered experience will result in a truly inclusive and fun gameplay – in turn, engaging new and existing football fans from across the globe, as well as promoting the values of the sport to an even broader audience."
5. Budweiser
On October 14, 2022, Budverse x FIFA World Cup NFT collection was introduced to NFT market. The collection includes a live scoreboard NFT that lets users choose and represent their teams and track their real-time progress throughout the entire tournament.
The Live Scoreboard NFT also let its members win the VIP 360 Experience as Budweiser's most exclusive hospitality package, a premium Budweiser football merch kit, access to a holders-only Discord channel for an always-on game time community, and the Budweiser Penalty Kick mini-game.
The Budverse x FIFA World Cup collection let people feel if they are at the FIFA World Cup. Each NFT will also come with an exclusive Budweiser Football merchandising kit. The digital collectible provides users a one-of-a-kind way to support their favorite team, keep track of their scores, and make sure they never miss the big moments throughout the tournament.
6. Qatar Fan Club NFT Collection
Qatar Fan Club owns a metaverse, a DAO, a crypto shop, and a World Cup Prediction Match game. The company launched 10,000 World Cup 2022 NFTs for soccer fans on September 11, 2022. There was also a whitelist sale ahead, on September 7. The NFTs exist on the Ethereum blockchain.
7. Shiba Inu
Shiba Inu and Blockchain Block Forest recently entered into an agreement to create a series of official NFTs for FIFA World Cup Qatar 2022. The World Cup NFT collection is running on the TRON network for wider access to users.
The World Cup NFT collection created NFTs based on flags of different countries, where people could buy a digital play and get an NFT player from the same country for free. This collection may help Shiba Inu reboot its value in the market despite large drops within the crypto world.
8. Cool Cats and Animoca Brands
Cool Cats partners Animoca Brands to bring a soccer-themed NFT collection to celebrate the FIFA World Cup 2022. The two Web3 companies have teamed up with OneFootball Labs to create Cool Cats FC, a collection of 4,000 Ethereum NFTs. Holders of the NFTs can benefit from real-life and digital utilities. The public minting starts on November 19.
Each dynamic Cool Cat FC NFT represents one of the 32 playing countries (125 NFTs per country are issued) in the world's largest football event. NFTs associated with the teams gradually evolve through finals and mark each team's progress. As the teams advance, depending on the NFT, holders can get an opportunity to gain rewards, including merchandise, unique IRL experiences, meet-and-greets with players, and digital collectibles.
9. FIFA+Collect
FIFA has launched FIFA+ Collect to allow its web3 fan base to join the fun in Qatar World Cup 2022. The collection is built on the Algorand blockchain and is a digital collectible platform, allowing fans to purchase various FIFA NFTs through a 'packs' system. The NFTs sale has been hugely successful and after the latest drop, Genesis and Archive, over 200,000 fans have claimed packs.
These NFTs allow fans to collect pieces of football history in blockchain form. Through the FIFA+ Collect platform, holders can trade, swap, and even use these NFTs for challenges.
On the other hand, the FIFA+ Collect digital collectibles holders have the chance to win a unique prize in the "Own It, Win It, Live It" giveaway. Every pack purchase until November 20th also creates an automatic entrance into the prize draw. To add to the hype, a new winner will be selected at random each week.
Qatar World Cup 2022 starts in few days and there are some more NFT and metaverse projects joining the World Cup. If you wish to keep update with news about NFT and metaverse projects and companies attending Qatar World Cup 2022, check us every day on nftnewspro.com.
Soucre NEWspro