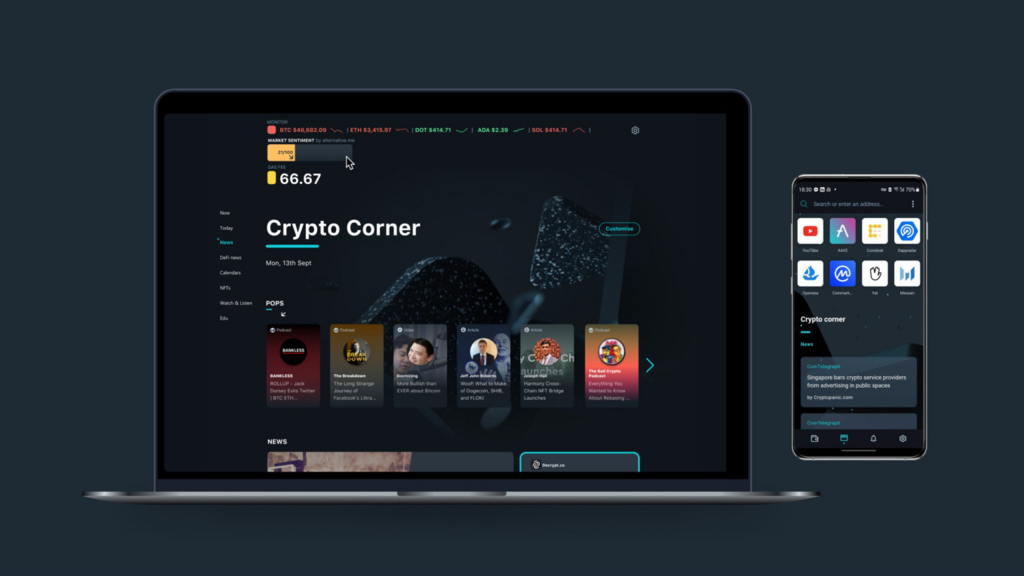 At the beginning of 2023, Opera Crypto Browser will have a tool for building NFTs by dragging and dropping. Alteon, which makes cloud-based ecosystems, will build Opera's crypto browser's launchpad and add it to the browser. It would also give users an easy way to make digital art without having to know how to code.
When media files are dropped into the tool's launchpad, they can be previewed and turned into copyrighted content, which can then be shared, saved, or sold.
Susie Batt, who is in charge of Opera's crypto ecosystem, said,
"Opera Crypto Browser is all about exploring Web3 privately and securely. With Alteon LaunchPad, we are giving users the opportunity to contribute freely to this ecosystem. Now, our users will be able to create NFTs instantly and simply with no platform usage fees, encouraging more people to explore the burgeoning NFT industry."
In January, Opera took its first step in the crypto world by putting out its crypto browser.
The technology was shown off after Opera's DegenKnows, an NFT analytics tool for finding and keeping track of collections, came out in November. The program gave both on-chain data, like whale trades, and social signals, like the social media footprints of collections and the attention of NFT insiders.
Research and Markets have just put out the Non-Fungible Tokens (NFT): Global Market study. Even though the number of NFTs grew quickly in 2021, the report says that the growth was unstable and stopped in 2022.
On the rise: NFT Market?
In 2022, the NFT market around the world was worth $37.6 billion. It was expected to reach $125.6 billion by 2027, with a compound annual growth rate (CAGR) of 27.3%.
In October, Galaxy Digital also put out a report with details about royalty payments. The creators of art collections based on Ethereum [ETH] have been paid more than $1.8 billion in royalties. Over the past year, the average royalty rate given to creators on OpenSea went from 3% to 6%. Also, OpenSea is the platform that gave creators the most royalties.
Ten different groups are responsible for 27% of all the NFT royalties that have been collected so far. Also, the royalties from 482 collections made up 80% of the total royalties. So far, royalties paid to eight big brands have added up to about $100 million.
Source NFT NEWspro