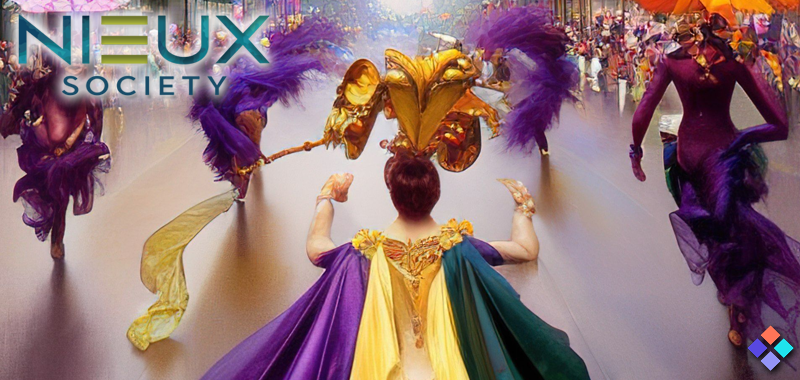 The Nieux Society, a New Orleans-based Web3 company, has launched Mardi Gras-themed NFTs that offer holders special privileges. The carnival themed event kicks off on February 21, and Nieux has found a way to utilize NFTs to allow for special access. Therefore, for $160, you will get an NFT pass that allows you to access food and drinks.
In addition, the pass offers access to private parties, exclusive performances, special events, and even restrooms along the parade route. Interestingly, the latter has attracted ridicule online, as some people cannot fathom needing a pass to access the washrooms. However, you cannot underestimate the importance of finding a decent restroom in a crowded parade.
That said, the Mardi Gras-themed NFTs are made up of a collection of 5,000 AI-generated digital collectibles. These NFTs will be available for purchase later this week.
In a press release, Tim Williamson, co-founder and CEO of the Nieux Society, notes that "Nieux Society members used this cutting-edge technology to create a collective vision for Mardi Gras while utilizing NFT technology to provide holders exclusive access, benefits, and an ongoing invitation to join us on our journey to help New Orleans' realize her full creative potential."
NieuxCo Mardi Gras Themed NFTs Are Nothing New
Because of their unique characteristics, NFTs are becoming increasingly popular as access passes. Last August, a restaurant in New York sought to use them for reservations, but they faced backlash similar to what the Nieux Society is facing for its Mardi Gras washroom pass. Some have even gone to the extent of describing them as grifters who are selling unlicensed securities.
However, it appears this use case is here to stay, as NFT passes make tracking and proving ownership easy. So far, there are several businesses making use of them, such as the Flyfish Club. Its NFTs offer holders access to top-end seafood restaurants. However, they don't come cheap, as one goes for about 2.7 ETH.
Source NFT Plazas