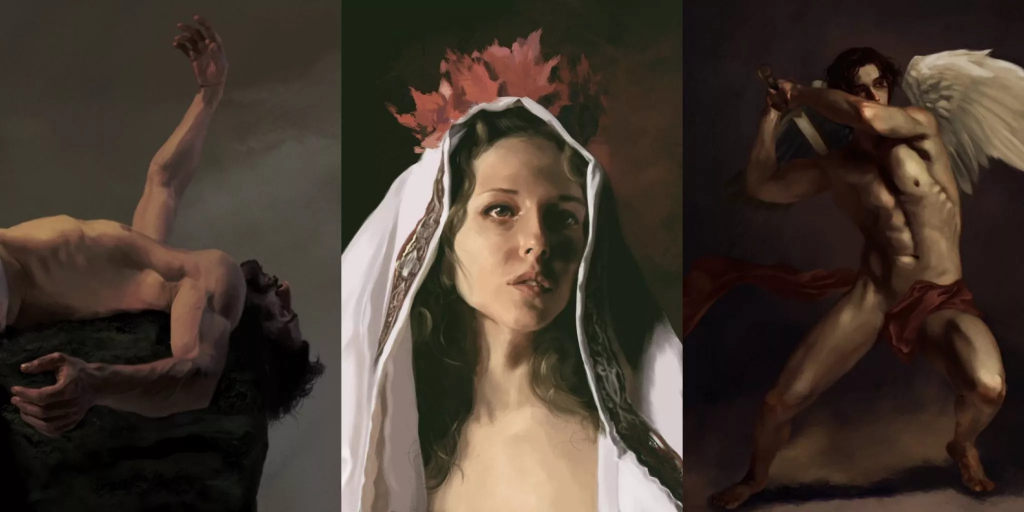 Daniel,
So lovely to spend time with you, I am such a huge fan of your work. Would you mind telling me a bit about your background as an artist?
Hi Ashley, an absolute pleasure to have met you and spend time with you.
Well, my journey as an artist started way back ago. I've always loved to draw, since I can remember I was drawing and painting.
I believe I started actually doing portraits around the age of 9 in a drawing/painting workshop I attended. That's when I fell in love with portraits actually and started to do portraits of everything that I was interested in (mostly comic characters in that time) in pencil. Then growing up I actually quit drawing until age 24, when I started Design School (my way to get close to art again) and never stopped since then. It was about 10 years ago that I found digital painting and fell in love immediately.
Where are you from, and how has your upbringing and home influenced your work?
I'm from Uruguay, born and raised.
I come from a place in which art has not a place of much privilege nor appreciation which made it a little tough. That is one of the reasons I've never considered art as a career path growing up. But despite that, I come from a family where emotions and sensitivity was always a value and that's why I cherish and embrace it so much in my work.
What brought you into the web3 space?
As many of us, I found out about the space right after the famous Beeple sale. It was not the money what actually drawn me to this space but the fact that I found out that people were actually valuing digital art. The fact that some folks all over the world were giving value to art and artists was just amazing to me and felt like it was the opportunity I was waiting for. Definitely felt like the opportunity of a lifetime for me.
What artists, both traditional or digital, have inspired you in your work?
Definitely my work is shaped and influenced by the work of the old masters.
My biggest influences are masters such as Caravaggio, Rafael, Michelangelo, Gentileschi, Rubens, Sargent, Zorn, Repin, Saez and a lot more.
And of course, digital artists I admire a lot like Aaron Griffin, Raphael Lacoste, Billelis, Pascal Blanche and so many others.
What hurdles have you faced as an emerging NFT artist?
I think like a lot of us the struggle for visibility is one of the biggest challenges an artist can face in this space. There's a lot of talent in this space and it can feel a little overwhelming sometimes to deal with not getting seen or recognized. Of course, sometimes market conditions can be determinant in some way but for me the most important for most artists sometimes is to stay relevant and feel appreciated.

Do you have a muse? What inspires the people in your stunning works?My biggest influence is definitely human emotions and nature. I believe the human body can tell so much and make you feel such a wide variety of emotions that I feel almost impossible not to use it to tell a story.
What can we expect from you in the coming months?
I will keep growing, keep creating and pushing my own limits. I believe I'm just starting and there's a lot of things I want to do and explore.
One of my biggest goals is to actually become a full-time artist in the middle-term to be able to focus 100% in my art and I'm working really hard to achieve that.
If you had one piece of advice for artists looking to follow in your footsteps, what would it be?
Definitely to take your time, do not rush it and always focus on your own journey and growth.
Love what you do and do what you love, for me this is about actually doing what I love, and it definitely takes a lot of pressure (that of course exists) off.
Thank you so much for this amazing opportunity. I'm nothing but grateful to all the love and support.
Much love
Daniel (AKA Foleee) 
Source NFT CULTURE