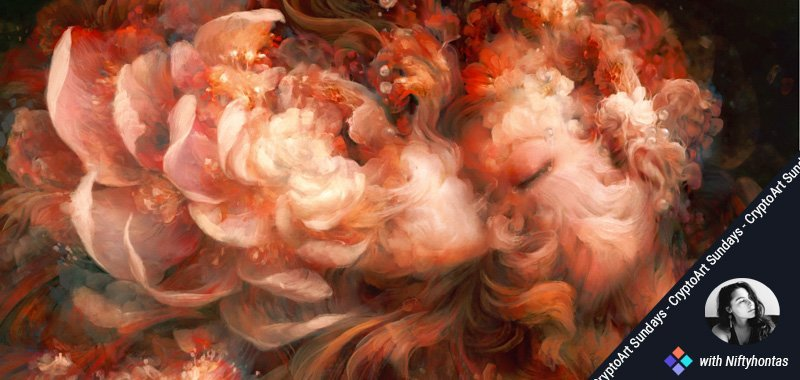 Welcome to CryptoArt Sundays once again! Say hello to the talented motion designer and artist, Jenni Pasanen.
Jenni is based in Helsinki, Finland, and her unique style is defined by her combination of GAN (Generative Adversarial Network) along with her imagination and digital creations. She believes that by blending art with machine learning, we can create something unprecedented and fascinating.
So, let's dive in and learn more about her art process and her journey in NFTs!
How did you find out about the NFT space, and what attracted you to create your own NFTs?
I found NFTs through my friend as she sent me a message "Hey, have you heard of NFTs". From that I started do my own research, and I was hooked. I think what attracted me the most in the space at first was the freedom, the idea of freedom to create what your heart desires and maybe one day be able to make living out of it.
That made my heart drop, as my all time dream since I remember had been to become full time artist one day. I thought it would take years, but one thing lead to another and last year I was able to quit my day job, now I am living the dream and forever grateful for it, makes me emotional and cry from happiness every time I think of it hehe.
The second thing in the NFT space that kept me going everyday is the community. The community that is built around NFTs is so kind, supportive and loving, every person I've met so far has a heart of gold. That is something that makes the space special.
How often do you create?
Every day I can, only days when I am travelling or do not have access to my tools I am not able to do anything, but you could say "not creating" is part of my creative process. Very often people mistake that you must do something every day, that can be fatal to creativity.
What feeds your imagination is the feeling of boredom, your brain has to get bored at times to lead new routes of inspiration to weave. So in other words, we're all creating every day, but it's the unconscious creating.
What is your creative process?
My creative process starts pretty much every time from GAN. Generative adversarial networks work for me as a muse and paint, the generated images GAN is able to do opens up the field of endless imagination as it is able to create something I would never have thought on my own.
This way of collaborating with machine has lead to more imaginative creations. Digital painting is the second step. After I choose images from the bunch of generated pieces, I combine, twist, cut and stretch to what I've imagined.
Combining these two as a pile of pancakes and layering them at times on top of another, and painting in between will lead me to the finished work. My process is based on the gut feeling that comes from the work, and it's something I always follow as it shows the right path.
The final step of work is color grading, which is maybe one of most important ones, as with it I am able to open up all the hidden colors and hues that have been hiding in the work during the process.
Are there any CryptoArtists you would love to collaborate with?
Everyone who has the right boogie and heart in right place, the best collabs come when two hearts connect to create something beautiful as one. Currently there's thirteen confirmed collabs, and soon closer to thirty in the queue. Little by little we get there, one at time!
What do you think the future of CryptoArt will look like?
Very bright and something that will only grow. Currently CryptoArt and crypto are still in baby shoes as crypto isn't regulated, that's why people are still unsure and a little bit scared of it. As more and more people realize the downfall of fiat, the possibilities and support that the NFT community and technology gives, the masses will adopt crypto. This will lead the whole world to create and join in the flow of CryptoArt. CryptoArt is the future.
What are you currently working on?
One of one pieces, collections, collabs and various tiny side projects, you could say there is no boring moment when it comes to art!
Where can collectors find your work?
Best way to display all the works at one place is my Instagram as I load every piece there. Other platforms my works can be found on are OBJKT, MakersPlace, WOV and SuperRare. There are also works and collabs on various other NFT platforms, all of them can be found on my linktree.
Source NFT Plazas