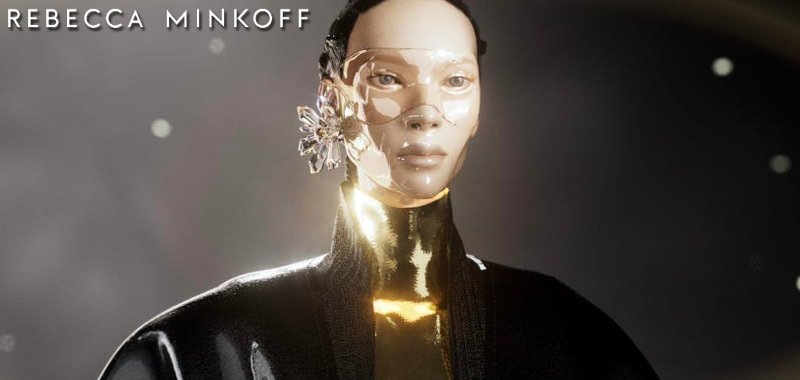 Designer and namesake label Rebecca Minkoff is debuting her brand's second NFT collection at this year's Crypto Fashion Week. Unlike the first drop, which saw NFTs of her Fall/Winter collection sell out in a matter of minutes, the virtual garments are to come with no physical counterparts, further meaning that they will strictly reside within the metaverse.
As the name suggests, Minkoff's new fashion NFT line, 'The Dunamis' collection, draws inspiration from the Greek philosophical concept of dunamis, which refers to power and potential, whilst also being infused with elements which pay homage to the NYC roots of her fashion journey.
The collection includes four digital looks, Athena, Venus, Aphrodite and Persephone; each piece will be unveiled on the digital runway. The full line will then be available via fashion NFT marketplace The Dematerialised (DMAT), a virtual space which allows users to view, purchase, and style their avatars.
The Grecian-come-Manhattanite NFT garments, which include dresses, tops, bottoms and accessories, will be priced between $100 and $1,400. Because of DMAT's democratising policy that neglects the necessity for purchasers to own a crypto wallet, virtual fashionistas will be able to buy such items using crypto or fiat.
In wake of her inaugural NFT launch last autumn, Minkoff sold her fashion label to Sunrise Brands for an unconfirmed amount (between $13 million and $19 million). As portrayed in this endeavour, as well as her overall outspoken enthusiasm for NFT utility, Minkoff intends to use the new injection of funds to further explore more Web3 fashion opportunities.
 "Now we have the resources to invest in NFTs in a much larger way. Eventually I see a world where there's a division for this and something we can focus on, whether it's separate or in-house drops." – Rebecca Minkoff
Source NFT Plazas